Machining Experts Build an ERP System from Scratch
Growing Pains for Customer Gains
Resting on our laurels isn't really our style. Diversified Machining has been in business for 30 years and we have decades more of collective experience in prototype and production machining, with expertise in new product production … and there's a "but" coming. But, it's not enough when you want to grow and scale for your customers.
That's what started an avalanche of changes, the first of which had me building an enterprise resource planning (ERP) system from scratch.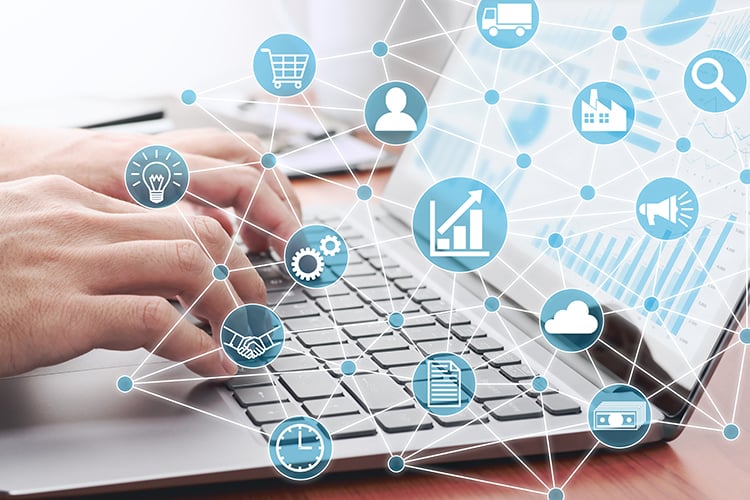 Diversified had enjoyed a successful run before Phil Holman and I joined the team here—but was still operating on a manual system. Updating our business systems to allow us to manage our accounting, procurement, risk management and compliance, project management, supply chain requirements, and operations records digitally was the natural first step. Just think of how optimizing all these processes translates to more efficiency on all levels of the customer experience. We know we did! The goal, which we have achieved, was to take a successful legacy shop from manual processes into today's digital manufacturing ecosystem.
ERP Up & Running
The first advantage of having the ERP up and running as soon as we did was to achieve more end-to-end transparent, real-time information about each job, including every detail—especially supply chain info—so we can quote your job quicker and with more accuracy.
I've worked with two ERP platforms in my career, which gave me a solid background to understand how to build our new system. Able to distill down to the "guts" of the project, I knew how to prioritize the building process: I needed to create syntaxes for part numbers, raw materials, finished goods assembly, and ensure that the same description syntax remain intact throughout, so the database would start clean and stay clean. Good data integrity is vital for efficiency, accountability, and time management. Among the many benefits of having all this information now digitized, this enables us better pipeline oversight, allowing more accurate forecasting, which all helps us serve customers better.
Model for Growth
I was fortunate that my 17 years of manufacturing experience guided me well during this phase. I worked in a business that had a similar focus, with customer service being one of the primary pillars of the business model. That deep understanding of which data points and benchmarks we need to focus on to keep our successful customer experience thriving as we grow is important.
On the production side of things, machining is a new industry for me, so building this database "forced" me to learn every assembly that Diversified builds—understand the nuances of how products are made. I know all the details about our material and labor; from behind the scenes and on the production floor, as I also spent time in production making product. I basically had a crash course on how this business runs—from inside out, and on every level.
Establishing these various baselines is enabling us to be easily scalable and will aid us in training new employees as we grow. These include items and procedures such as:
All of these new systems are working well, so customers can be confident that we are both on solid ground.
Work in Progress
Still … there's more work to do. We are well on our way in our preparations to receive ISO 9001:2015 certification. Coming from a shop that had achieved it and knowing the protocols and practices of an ISO-certified shop, we already approach our work with this standard as our guide. We will be applying for certification in early 2023.
With all that said, we are here, keeping our existing customers very happy, and are excited to bring on new customer who need machined parts, and/or who are looking for NPI guidance on new builds or prototypes. We recently brought on another new CNC machine (Trak TMC 5), so we have the capacity. As much as possible, we use a local supplier, and have had no problems with procuring metal. There have been no issues with getting raw materials such as plastic from our other local suppliers, as well. While materials like copper can be trickier in terms of the lead time, overall, we have solid confidence in our supply chain and our ability to deliver your finished part on time.
We're Ready for You!
Among the industries served are medical electronics, contract electronics manufacturers, industrial manufacturers, military sub-contract manufacturers, robotic manufacturers, and contractors who need specialized machined parts. We provide low- to mid-volume, assembly, lathe, and manual work, utilizing CNC milling machines, CNC turning, and plastics machines. We are skilled with various metals and plastics, and we will help you meet your requirements. We design and build fixtures and jigs and can work from electronic files, prints, verbal instructions, and sketches.
Diversified Machining is equipped to handle all your contract manufacturing work—whether you are looking for a prototype or full production, or require collaboration at the onset with design for manufacturability (DFM), new product development (NPI), or have your drawings ready for the build. We work collaboratively with your team—including engineering and drafting support—helping you to reduce costs and improve product integrity. If you have the vision, but not the design, we'll work with you to clarify and create it. Let's get you started on your next project—contact us today.